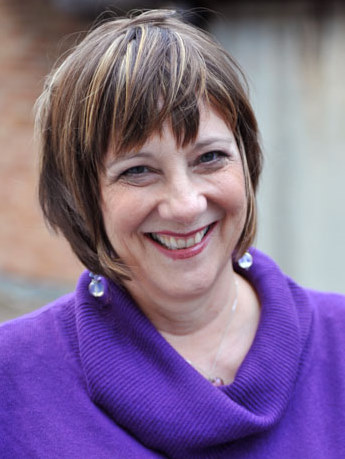 Photo By Steve Ullathorne
About Deborah Crombie

Deborah Crombie was born in Dallas and grew up in Richardson, Texas, a suburb north of Dallas, the second child of Charlie and Mary Darden. Her maternal grandmother, Lillian Dozier, a retired teacher, taught her to read at the tender age of four. After a rather checkered educational career, which included dropping out of high school at sixteen, she graduated from Austin College in Sherman, Texas, with a degree in biology.
She then worked in advertising and newspapers and attended the Rice University Publishing Program. A post-university trip to England, however, cemented a life-long passion for Britain, and she later immigrated to the UK with her first husband, Peter Crombie, a Scot, living first in Edinburgh, Scotland, and then in Chester, England.
After returning to live in Dallas, a trip to Yorkshire inspired her first Detective Superintendent Duncan Kincaid/Sergeant Gemma James novel. A Share in Death [Scribner, 1993], was subsequently given Agatha and Macavity nominations for Best First Novel of 1993. The fifth novel, Dreaming of the Bones (Scribner 1997), a New York Times Notable Book for 1997, was short-listed by Mystery Writers of America for the 1997 Edgar Award for Best Novel, won the Macavity Award for Best Novel, and was voted by the Independent Mystery Booksellers Association as one of the hundred best mysteries of the century. Her subsequent novels have been received with critical acclaim and are widely read internationally, particularly in Germany.
In 2009, Where Memories Lie won the Macavity Award for Best Novel. In 2010, Necessary as Blood received a Macavity nomination for Best Novel.
Crombie's novels are published in North America, Japan, Germany, France, Czechoslovakia, Spain, Romania, Greece, Turkey, the United Kingdom, and numerous other countries. The latest novel in the series, A Killing of Innocents, is available in February 2023 from William Morrow.
Although she travels to England several times a year, Crombie lives in McKinney, Texas, a historic town north of Dallas, sharing a circa 1905 Texas Craftsman bungalow with her husband, Rick Wilson, two German shepherds (Dax and Jasmine), and two cats. She is an aficionado of tea and cocktails, enjoys cooking and admiring her garden, reading, birdwatching, and playing with her dogs.
She is currently working on her twentieth Duncan Kincaid/Gemma James novel.

---
Awards, Honors, Achievements and Recognition
Awarded Honary Phi Beta Kappa, Austin College, 2018
Garden of Lamentations
Debuts on the New York Times Hardcover Bestseller List
To Dwell in Darkness
Debuts on the New York Times Hardcover Bestseller List
The Sound of Broken of Broken Glass
Debuted at #9 on the New York Times Hardcover Bestseller List
No Mark Upon Her
New York Times Hardcover Bestseller list
Necessary as Blood
New York Times Extended Best Seller
April, 2010, #3 Bestseller in Germany
Macavity nomination for Best Novel
Where Memories Lie
April, 2009, German Best Seller List

Won 2009 Macavity Award for Best Novel
Water Like a Stone
April, 2007, hits #3 on the German Best Seller List
In a Dark House
July-August, 2005, the newly published Goldman edition of In a Dark House hits the German Best Seller List
Dreaming of the Bones
Edgar award nomination by Mystery Writers of America for Best Novel in 1997
Macavity award, Best Novel
New York Times Book of the Year, 1997

One of the 100 Best Crime Novels of the Century according to the Independent Mystery Booksellers of America
A Share in Death
Agatha nomination for Best First Novel of 1993

Macavity nomination for Best First Novel of 1993
Other Recognition
Deborah has been a frequent, featured speaker at St. Hilda's College, Oxford, and Austin College, where she has served on the President's Advisory Council.

In 2004, Deborah was nominated by the Romantic Times for a 2004 Career Achievement Award, Mystery & Suspense series.

In 2003, Deborah was acknowledged as a Distinguished Alumna by Austin College President Oscar C. Page.

The Barbara Bush Foundation for Family Literacy funds the development of innovative family literacy projects in which parents and their children can learn and read together, and which provide parents with the skills they need to be their children's "first teachers". Mrs. Bush personally asked Deborah to participate in a Dallas literary fundraising event, requesting that she read an excerpt from one of her books. Deborah read from her most acclaimed book, Dreaming Of The Bones.
---
Praise for Deborah Crombie

Deborah Crombie is an American mystery novelist who writes so vividly about England, she might have been born within the sound of Bow Bells. (She) gets better with each book…lyrical, biting and evocative.– Cleveland Plain Dealer
Crombie has laid claim to the literary territory of moody psychological suspense owned by P. D. James and Barbara Vine. – Washington Post
A master of the modern British mystery…one writer who gets better with every book. – Harrisburg Patriot News
Crombie keeps this series on its toes with her smooth procedural techniques and engagingly eccentric characters. – New York Times Book Review
An uncanny affinity for the English detective genre…Her characters are three-dimensional and are drawn with compassion and sensitivity. – Dallas Morning News
Crombie has evolved into a masterful novelist. – Denver Post
---
Also by Deborah Crombie

The Sunken Sailor. Berkley Publishing Group, 2004, by arrangement with Malice Domestic Ltd.
Deborah contributed a chapter for the round robin mystery novel, The Sunken Sailor, for Malice Domestic Ltd. This novel was written by fourteen writers, editors and readers of crime novels who each contributed a chapter, then sent the manuscript on to the next author who picked up the story and sent it on to the next. Fourteen masters of suspense…one unpredictable mystery.
The Sunken Sailor
Between the two world wars, just outside a proper English village, the Dowager Duchess of Faughstrayne is hosting a house party. Her once-magnificent estate, Castle Crawsbey, may be in disrepair, but the chorus-girl-turned-aristocrat can still impress her guests: a London charlady who has a secret past (or does she?); a Russian émigré now impoverished (or is she?); and a wounded vet who can solve crimes (or can he?). Just one rule: Don't mention the hostess's dead husband (five years and mum is till the word) or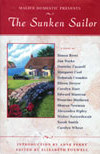 her missing son (rumored to be in a Patagonian prison), lest you be met with a violet-eyed look that could kill. But what offence did American visitor Admiral Cornelius Brandon commit? A dreadful one, apparently – his body has been discovered at the bottom of the koi pond, tied to a submerged statue of Neptune. And the weekend has only just begun…