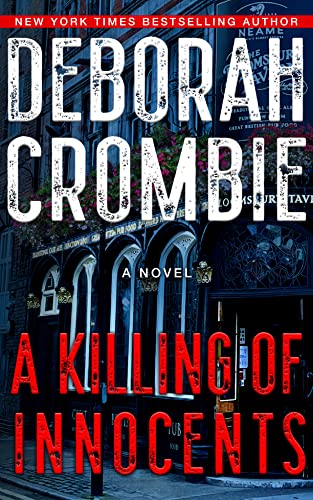 International and New York Times bestseller Deborah Crombie returns with her beloved Scotland Yard detectives Duncan Kincaid and Gemma James in a compelling new crime novel as they race to solve the shocking murder of a young woman before panic spreads across London.

Junior doctor Sasha Johnson hurries through a rainy November evening crowd in London's historic Russell Square. Out of the darkness, a stranger brushes roughly past her. A moment later, Sasha stumbles, then collapses. Nearby, Detective Superintendent Duncan Kincaid and his sergeant, Doug Cullen, are called to the scene, and quickly discover that she's been stabbed.

Kincaid immediately calls in his wife, D.I. Gemma James, who has currently assigned to a special task force investigating knife crimes which are on the rise. Along with her partner, Detective Sergeant Melody Talbot, Gemma joins in the investigation. But Sasha Johnson doesn't fit the usual profile of their typical knife-crime victim. Sasha is single, successful, career-driven, and has no history of abusive relationships or any gang links. Sasha did have secrets, though, and some of them lead the detectives uncomfortably close to home.

Even as the team unravels the Sasha's tangled connections, another, related murder intensifies the hunt and the consequences. Kincaid, Gemma, and their colleagues find that even their closest friendships may be at risk if they are to find the killer stalking the dark streets of Bloomsbury.
Available from Amazon UK, Amazon Australia, Kobo UK, Kobo Australia, Apple UK
Praise for A KILLING OF INNOCENTS
"My most recent crime read was A Killing of Innocents by Deborah Crombie. New to the series but got pulled in immediately by the interesting plot and engaging range of recurring characters." -- Ann Cleeves, New York Times bestselling author
---
"Situated in the rich, historic Bloomsbury district of London, A Killing of Innocents is a superbly plotted work of suspense that immerses the reader in the intriguing world of Scotland Yard. But Crombie also gifts us something equally compelling: a very modern portrait of richly intertwined and diverse characters navigating the competing demands of work, family and romance. There is such humanity in all of Crombie's creations, particularly the lead married detectives Gemma James and Duncan Kincaid, making this stand-alone book and its background series such a noteworthy and satisfying addition to the genre of psychological suspense." -- Natalie Jenner, international bestselling author
---
"Skillfully plotted... perfectly balances the investigative action with the characters' true to life personal problems... Crombie provides plausible suspects and motives amid entertaining interplay, including some friction, among the members of the squad. This entry can be read as a standalone, but it will give special pleasure to fans who have grown fond of the couple over the years." -- Publishers Weekly
---
"Crombie is as skilled as Louise Penny or J.D. Robb in developing characters while entwining personal lives with riveting police investigations. With four years since A Bitter Feast, the previous book in the series, the author's fans will be eager to catch up with her characters." -- Library Journal (starred review)
"Crombie, as usual, presents a fascinating puzzle, loaded with twists and a grand dose of London atmosphere...This is a worthy excursion into the lives of a popular sleuthing duo." -- Booklist
---
"Crombie excels at weaving together a cohesive story out of disparate circumstances and characters. The thread that ties the book together is the visceral horror that deliberate violence can be and is visited on innocents. A Killing of Innocents is rooted in the relationship between Duncan and Emma; how their careers impact their family life and friendships. It's absorbing, nuanced, and true to the personalities of two people we've come to regard as almost family." -- CriminalElement.com